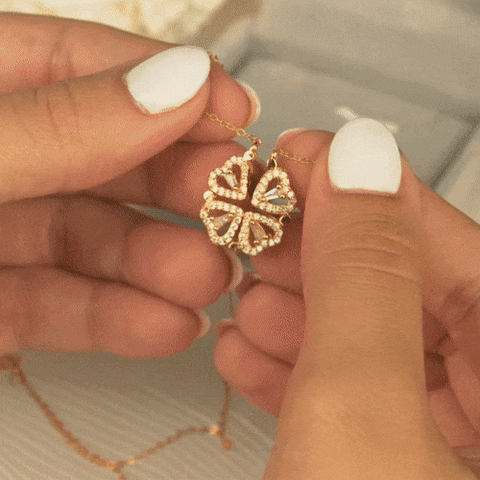 MEANINGFUL NECKLACE
This isn't just any heart flower necklace; it's a special one.
The four leaves represent faith, love, hope, and luck.
CONVERTIBLE NECKLACE
This inspiring necklace can be worn in two different styles.
Simple as open and close.
When you open it, you'll see four straight heart-shaped designs and close for a cloverleaf heart shape.
BRING OUT YOUR CHARM

Wear this necklace and you will notice it is shining and shimmering under the light with every movement, making you stand out.
Not Satisfied? Not a problem! We are proud to offer a risk free 30 day money back guarantee to all of our customers!
To be eligible for a refund, just follow our protocol on our 'Refund Policy' page for a full refund without any hassle.
Processing Time
Worldwide: 3-5 days
Shipping Time
Worldwide: 7-14 business days
If you have any questions regarding our shipping info or anything at all, please feel free to reach out to us using our contact us form.